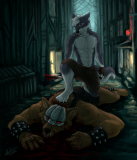 Hello , i write a own fiction about werewolves .
Here is my idea
"In the far future human race accomplished, that the world was in a relative peaceful state.
During a lunar eclipse, when the moon was lit red and people of Earth were celebrating and praising their own existence, they got under the worldwide attack.
But the attackers weren't humans, they were aliens.
The aliens were some kind of mix of human and wolf . They were stronger and bigger than humans, they also had better senses, they heard, smelled and saw better than humans.
Many of them had scarred bodies and had, instead of their real body parts, cyborg parts.
They landed to the planets which they spied before, then they enslaved the population and killed according to their mood.
The human soldiers were hardly able to stop these beasts, even battles apparently obtained were lost.
Killed Lupains rose up again and continued fighting.
The beasts injected themselves with yellow colored liquid. The liquid could heal all of their wounds.
Removing a head was the only way to kill a Lupain, but humans didn't know that.
The human casualties were so high that the government had to take action and stopped the military actions against these beasts.
A new era begun, the time when the human race have surrendered and the new race ruled over the planet Earth and its population.
But from the ashes of the cities and the bones of the fallen raised the resistance.
Scientists around the world worked in New York to stop these creatures.
Far beneath the streets they built up an secret research lab.
A team of scientists got the idea to combine the cells of the Lupains with human DNA to create the new species.
These new species should go to battle against the Lupains and destroy important military
acilities.With this way the human race would get a second chance to obtain their rulership of the planet Earth back......."
(all can be read here
http://keiiion.deviantart.com/art/Ak...0-EN-511005779
)
What you think about that Idea ?
my DeviantART group
http://akira-bounty-hunter.deviantart.com/