Front Cover - Back Cover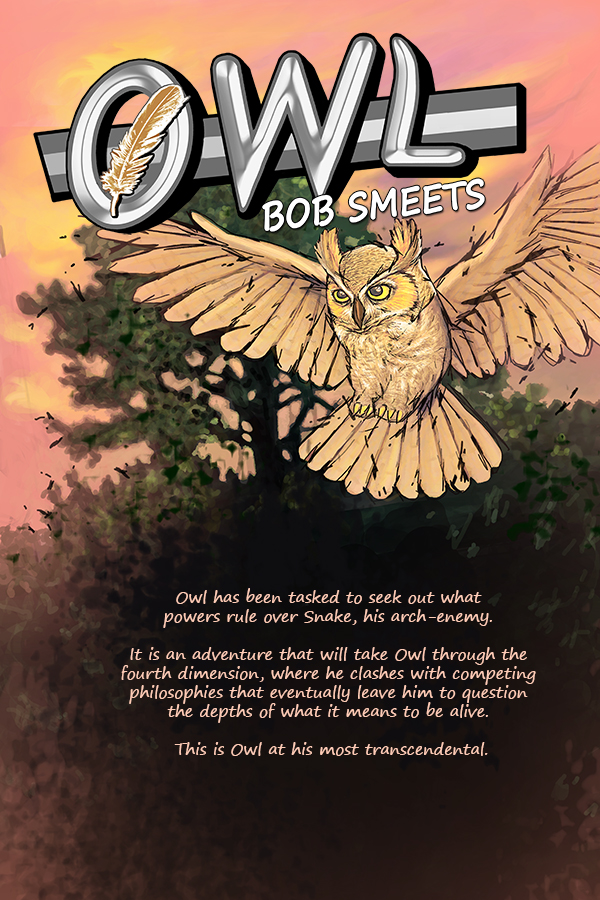 Attention Writers
I'm looking for someone who can REWRITE Owl, a graphic novel that is abstract, philosophical, poetic, and metaphysical (Owl ends up questioning reality itself). The base ideas are there and 100 pages are already drawn and colored, however the work that I present you needs to be rewritten. As it stands the story is open to meaningful interpretation (partly because I suck at prose, partly because abstract writing is kind of cool too). We can keep most of the 100 pages or tweak them a bit or completely scrap some pages and I would redraw them as you instruct. Owl is lacking a linear storyline; it is almost like a jazz band right now. That could be good or that could be bad, depending on how you envision the story. Some of you writers have done word prompts I'm sure, so think of this collaboration as an image prompt. Keep what you like, discard or make me draw something else.
Quick Notes
- I will send you a pdf of the 100 pages for you to come up with ideas.
- I will bow to your expertise in writing and will more than likely let you do your thing.
- We both split everything 50/50.
- We both choose what publisher seems best.
- I'm not doing a kickstarter - are you kidding me?
- I'm human. I'm not financially backed by the mayor. I don't know Todd McFarlane. We won't make much money at this. But we will make the best damn comic book ever! and live to tell about it.
Send emails to
yellowdogartistry @ gmail . com
I have two books out... Virtues - a children's teaching book and Weirdsdale the graphic novel. Owl would be my third book.
More Owl Art - Philosophy Samples