These are some of the activities presented here over the years. DO NOT POST YOUR WORK TO BE EVALUATED IN THIS THREAD, START A NEW ONE!
Activity #7
Image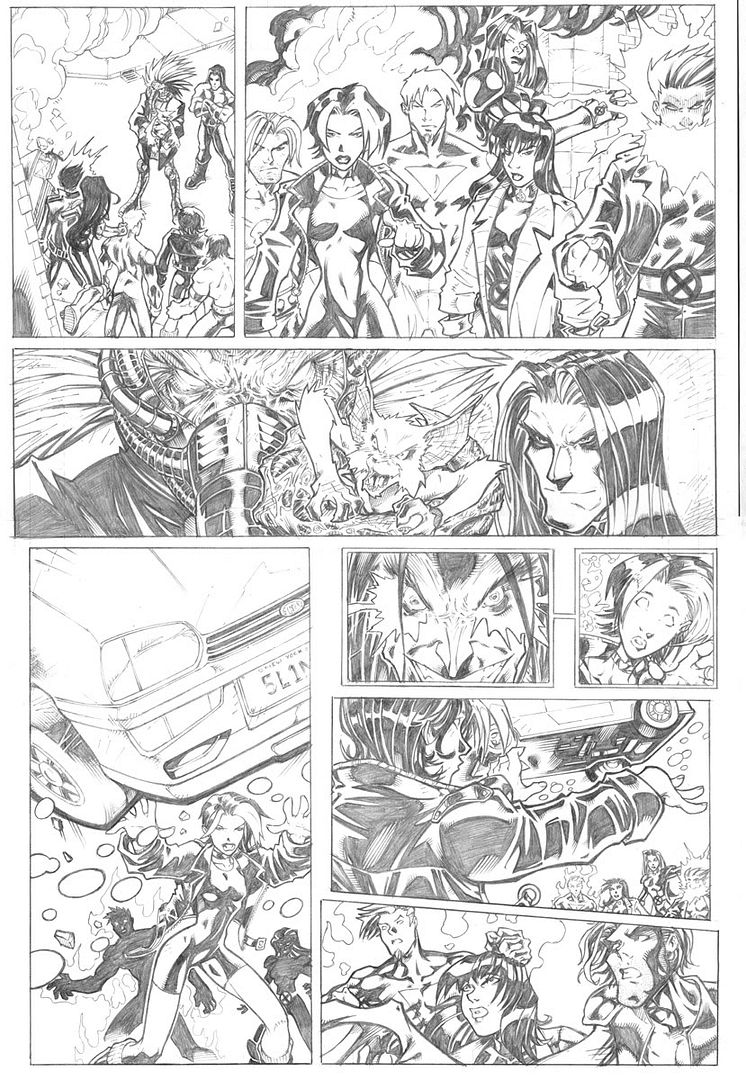 Script
Quick character rundown to help those out that might not know:
In Panel 1, the spikey haired guy with the gas mask looking thing is Emplate. The creature he's holding is Qeelocke. Emplate and Qeelocke usually have "different" speech bubbles. The long-haired guy with arms crossed standing behind Emplate is Trance.
In Panel 2 (from left to right), Grunge, Freefall, Burnout, M (flying), Jubilee (standing), and Chamber (he's missing the lower part of his face so all his speech is telepathic).
...and the last character present in Panel 8 with the stretchy skin is, of course, Skin.
This looks like it should be pretty challenging.
Panel 1.
CHAMBER: EMPLATE?
EMPLATE: THE CREATURE IS MINE NOW!
EMPLATE: THANK YOU FOR DISTRACTING EACH OTHER LONG ENOUGH FOR ME TO CAPTURE IT.
QEELOCKE: QUEEP?
GRUNGE(softly): BOY, TRANCE IS REALLY SCRAPING THE BOTTOM OF THE UGLY BARREL FOR HIS FREAKS, ISN'T HE?
Panel 2.
FREEFALL: I'VE HAD ABOUT ENOUGH OF THIS CRAP!
FREEFALL: GIVE HIM BACK NOW OR I'M GONNA CLEAN THIS STREET WITH YOUR FACE!
GRUNGE: WOW ROX, YOU SOUND ALL TOUGH AND [GEN13 BLACKED OUT CUSSING BLOCK].
JUBILEE: WHAT SHE SAID, SNUFFLEUPAGUS.
BURNOUT(whisper): SNUFFLEUPAGUS?
CHAMBER: GIVE IT UP OR WE'LL--
Panel 3.
EMPLATE: YOU'LL DO NOTHING BUT MY BIDDING AFTER I SUP ON YOUR GENES.
QEELOCKE: VROOT!
Panel 4.
FREEFALL: THAT DOES IT!
FREEFALL: EAT AEROSTAR FREAK!
SFX(BURNOUT'S FLAMES): FWOOSH!
Panel 5.
TRANCE: ROXY, YOU WOULDN'T DREAM OF HURTING US--
TRANCE: --WOULD YOU?
Panel 6.
FREEFALL: NO--
FREEFALL: YOU CAN'T--
FREEFALL(trails off): UHHH
Panel 7.
TRANCE(OP): NOW, WHY DON'T YOU SET THAT VEHICLE DOWN RIGHT OVER THERE.
Panel 8.
JUBILEE(softly): OH CRAP.
SKIN: DITTO, CHICA.
SKIN(softly): DITTO.
Activity #12
Image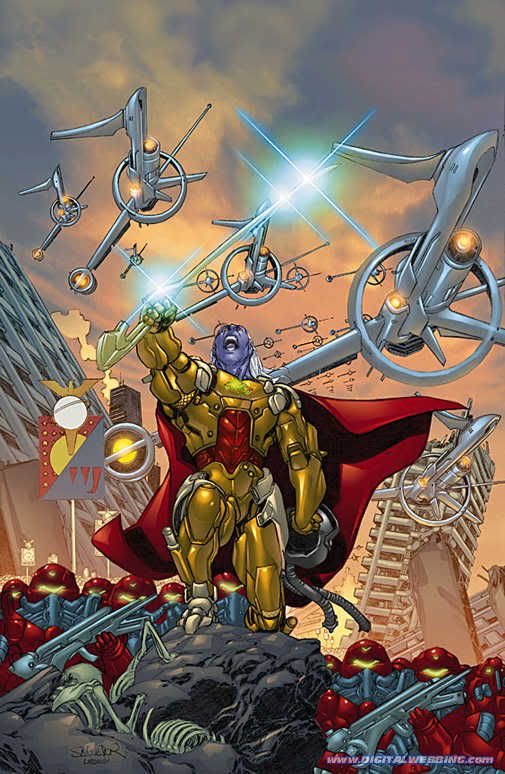 Script
Create a logo for X-Men Extreme
Activity #13
Image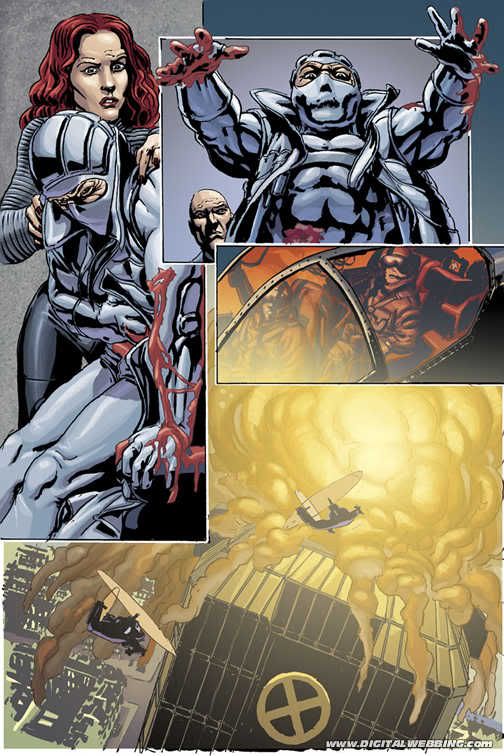 Script
Script by Dark Ora (OF COURSE!)
Panel 1.
FANTOMEX: WHO DARES--
Panel 2.
FANTOMEX: --WHO DARES INSULT US WITH THIS BLASPHEMOUS MOCKERY?
FANTOMEX: SEIZE HIM AND UNMASK HIM--
Panel 3.
CAP/FANTOMEX: "THAT WE MAY KNOW WHOM WE HAVE TO HANG,
CAP/FANTOMEX: "AT SUNRISE,
Panel 4.
CAP/FANTOMEX: "FROM THE BATTLEMENTS!"
CAPTION: AND NOW WAS ACKNOWLEDGED THE PRESENCE OF THE RED DEATH.
CAPTION: AND DARKNESS AND DECAY AND THE RED DEATH HELD ILLIMITABLE DOMINION OVER ALL.
Activity #14
Image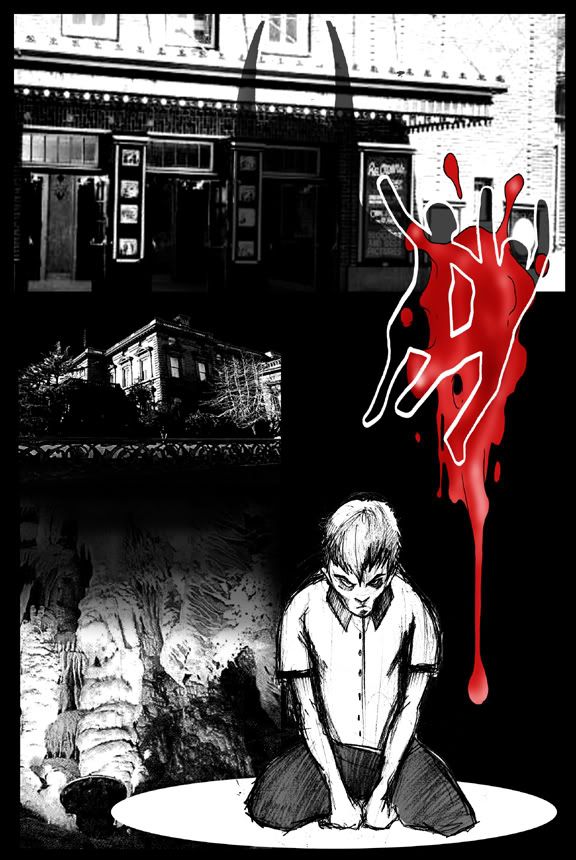 Script
What makes this even tougher is the script... it's not written with much (or any) direction. Often in the indy-word a script will come in that looks like this (or even less). Sometimes the letterer gets a measure of editorial control... this is one of those cases. MAKE THIS WORK! Somehow, anyhow, NOWhow!
(this is EXACTLY as it came to me)
Title - Prologue
- I remember the theater.
- I remember my parents, their oultines dancing together.
- I remember the violence.
- The Mansion
- ...and the secrets it held below.
- Moments change people, I was no different. I became determined to make
them feel like I had..terrified, hopeless...scared.
- I would strike fear into the hearts of men.
- I would become...
-=-=-=-=-=-=-=
Notice there is NO batman at the end... this is page 1... the splash is on page 2... so in your lettering ecstasy, don't get TOO happy... it's not supposed to be there at all.
GOOD LUCK ALL!
Activity #43
Image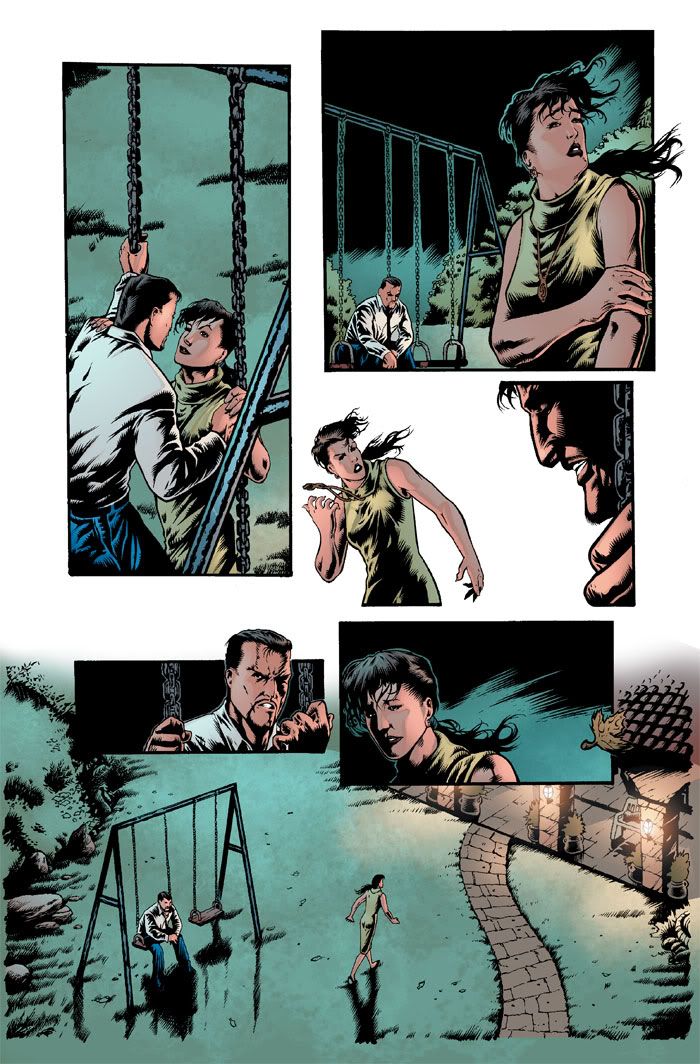 Script
Ok crew, here's a new one for you. This time it's a talkie. I believe you'll find this one is more challenging than the typical talking head page... and I'll leave you to find out why. Good luck, have fun, and don't hesitate to ask questions. I'll post the printed version in a week or so.
BLACKLIGHT #1 (IMAGE) Page 10 - Written by Scott Wherle, Art by John Toledo
PAGE 10 – (6 Panels)
PANEL 1 – Pull back for a two-shot. Lina is sitting up now, facing Tomas. She's not angry. Almost sad, though.
1 – LINA: That's the difference between us, Tomas.
2 – LINA: I'm not.
PANEL 2 – Lina standing, looking off the front of the porch.
3 – LINA: When we first got together, we always talked about how we were gonna leave. Get out and see the world. Get married. Do something with our lives.
4 – LINA: It's been four years, Tomas. Is this as far as we go?
5 – TOMAS: Let's not start this again.
PANEL 3 – Lina turns back to face Tomas, who is still sitting on the swing. She's more animated.
6 – LINA: Start what?
7 – LINA: Why am I "starting something" when I want to talk about our future?
8 – TOMAS: We've been over this, Lina.
PANEL 4 – On Tomas, who has a very serious look on his face.
9 – TOMAS: I have connections here. Stature. I go somewhere else and I start from scratch.
10 – TOMAS: You think somebody in New York is gonna give me a chance like your papa did? He's more of a father to me than my own.
11 – TOMAS: I can't -- I won't let him down.
PANEL 5 – Back on Lina. There's sadness and a bit of anger seething beneath her beautiful eyes, as subtle tears begin to well in them.
12 – LINA: But you'll let me down. I get it.
13 – LINA (CAP): ...that you can't figure out what it was that attracted you to them in the first place?
PANEL 6 – Lina heads for the front door, her back to us. Tomas sits, stoic, on the swing in the foreground.
14 – LINA: Good night, Tomas.
15 – LINA: I'm suddenly feeling sick and tired.
PAGE 10 – (cont.)
16 – LINA (CAP): Yeah, me neither.
Activity #44
Image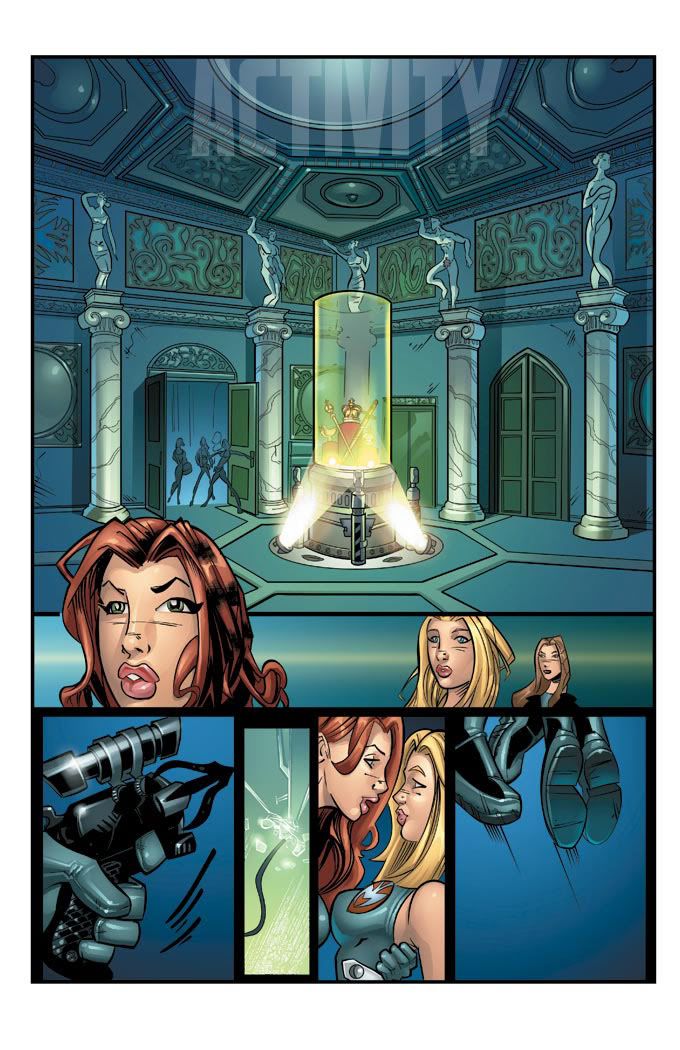 Script
This is a page I did for the up coming Alias book Victoria's Secret Service #0 (no, it's not what you think). Enjoy everyone.
PAGE 7
1. Lark: OoOoOo--! This frosts my bum--that masked pillock putting the Crown Jewels of England, the very heart of the monarchy, up for his own personal display!
Brooke: Let's blow the soddin' place up, then.
Brooke (small letters): Y'know--like th'last one.
Scarlet: Nuh-uh. We're only mandated to search-and-recover.
2. Scarlet: Now--as far as the recovery part goes...
3. Scarlet: That floor has GOT to be positively baled with weight sensors that, if activated, will do something unfortunate to ruin my girlish figure.
4. Scarlet: And just after I went off Atkins.
5. Scarlet: So stick with me, whitey...
6. Scarlet: ...and I'll show you what I mean by upward mobility.
Brooke: Ta.
UPDATE
Scarlet - The red head.
Lark - The brunette
Brooke - The blonde
Activity #50
Image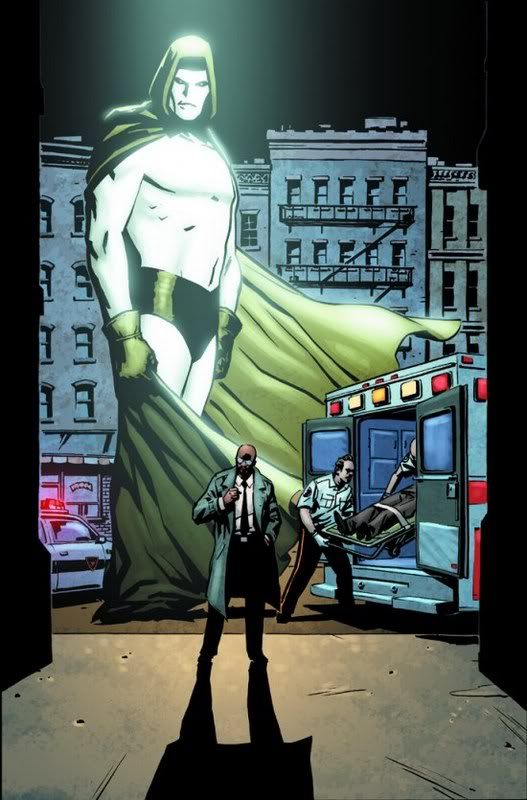 Script
Ok folks, here's a new activity for young and old alink to try brought to us by our buddy STATIC. The art is from an actual DC Comic, the script is made up to test your mad skills.
Post your triumphs here for a peer review!
Balloon 1
I'm dead and I can live with that
Balloon 2
Funny uh I'm still using that word live.
Balloon 3
I'm neither live nor dead.
Balloon 4
So answer me this Spectre.
Balloon 5
Why me?
Balloon 6
Why can't I be someplace above the clouds or under the earth?
Balloon 7
With all the stuff I've seen in my life why can't I rest now?
No emphasis guidelines with this script so use or lose as you see fit! I look forward to seeing what you do!
Activity - Worlds of Dungeons & Dragons
Image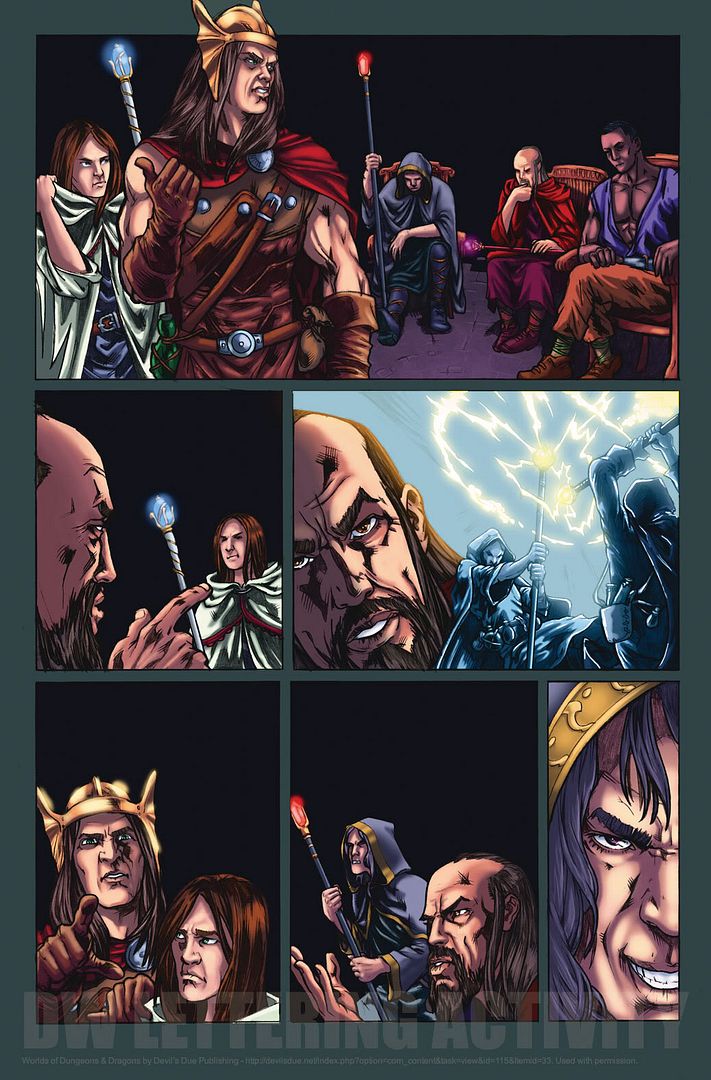 Script
Here's a page from the Worlds of Dungeons & Dragons comic by Devil's Due Publishing for everyone to letter. I enjoyed doing this page and I look forward to seeing what everyone can do with it. I'll post the final page when you guys want me to.
Legal - Mike O'Sullivan of DDP has given us permission to use both the art and script.
==SCRIPT==
Page 5 (6 PANELS)
PANEL ONE
1 JUSTARIUS: ALMOST THIRTY YEARS AGO, RAISTLIN MAJERE CAME HERE TO TAKE HIS TEST.
2 JUSTARIUS: ONCE INSIDE THE TOWER, HE WAS CONTACTED BY--
3 CARAMON: WE KNOW THAT!
PANEL TWO
4 JUSTARIUS: SOME OF US DO NOT, OR AT LEAST DO NOT KNOW THE WHOLE STORY.
5 JUSTARIUS: THE TEST WAS DIFFICULT FOR RAISTLIN, AS IT IS FOR ALL OF US WHO TAKE IT.
PANEL THREE
6 JUSTARIUS: YOUR TWIN HAD THE SKILL TO SUCCEED ON HIS OWN… BUT HE ACCEPTED THE HELP OF THE EVIL WIZARD, FISTANDANTILUS.
7 JUSTARIUS: FISTANDANTILUS DIED AT SKULLCAP MOUNTAIN BUT HIS SPIRIT SURVIVED, WAITING TO FIND A BODY TO INHABIT.
8 JUSTARIUS: HE FOUND RAISTLIN.
PANEL FOUR
9 CARAMON: THAT EVIL WIZARD TOOK MY BROTHER'S SOUL, AND YOU MAGES LET HIM!
10 JUSTARIUS (OP): RAISTLIN MADE A CHOICE TO EMBRACE THE DARKNESS! THAT IS WHAT SHATTERED HIS BODY! NOT THE TEST.
11 JUSTARIUS (OP): "THIS IS THE SACRIFICE I MADE FOR MY MAGIC!" HOW MANY TIMES DID YOU HEAR HIM SAY THOSE WORDS?
PANEL FIVE
12 JUSTARIUS: DON'T YOU SEE? IT HAPPENED ONCE, IT CAN HAPPEN AGAIN!
13 DALAMAR: BY SIGNS WE HAVE SEEN AND CONTACTS MADE, WE BELIEVE RAISTLIN LIVES. MUCH AS DID FISTANDANTILUS.
14 DALAMAR: HE NEEDS A BODY TO INHABIT AND YOU, HIS BELOVED TWIN, HAVE PROVIDED HIM WITH ONE. ONE YOUNG, STRONG AND TRAINED IN MAGIC.
PANEL SIX
15 DALAMAR: YOUR SON…
Incomplete Activities
Activity #3 - Script but no image
Activity #6 - Image but no script
Activity #10 - Image but no script
Activity #11 - Script but no image
Activity #15 - Script but no image