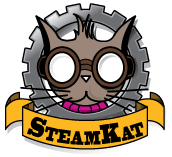 Do you have a comic strip or webcomic you would like to see published? One panel, three panels or more?
SteamKat.com is now accepting submissions for comic strips, webcomics and more! We just launched this week, and are adding content daily!
If you have a comic strip you would like to submit, you can contact us directly at
info@steamkat.com
. You can visit our submissions page for more information also. We will reply to every email...!
Frequent contributors will have their bio and information added to our "contributors" page.
Thanks!
J.A. Pringles
Publisher
SteamKat.com